When the tablet is getting old and not are up for the latest tasks there is still some life left in it. The most likely scenario is that the battery has been degraded and it needs to be frequently charged to stay alive. Here are some different ideas on what to do with an old tablet where it always can be kept connected to the charger.
Entertainment system in the car
Repurposing the tablet as an entertainment system in the car is a great idea for anyone having kids or who just want to take a look at a movie while tagging along for the ride. What you need is a tablet holder for either the back like this one on Amazon or the top-rated for the front seat depending on the location you want to set it up. A micro-SD card or USB flash drive to keep music/movies on and a charging cable.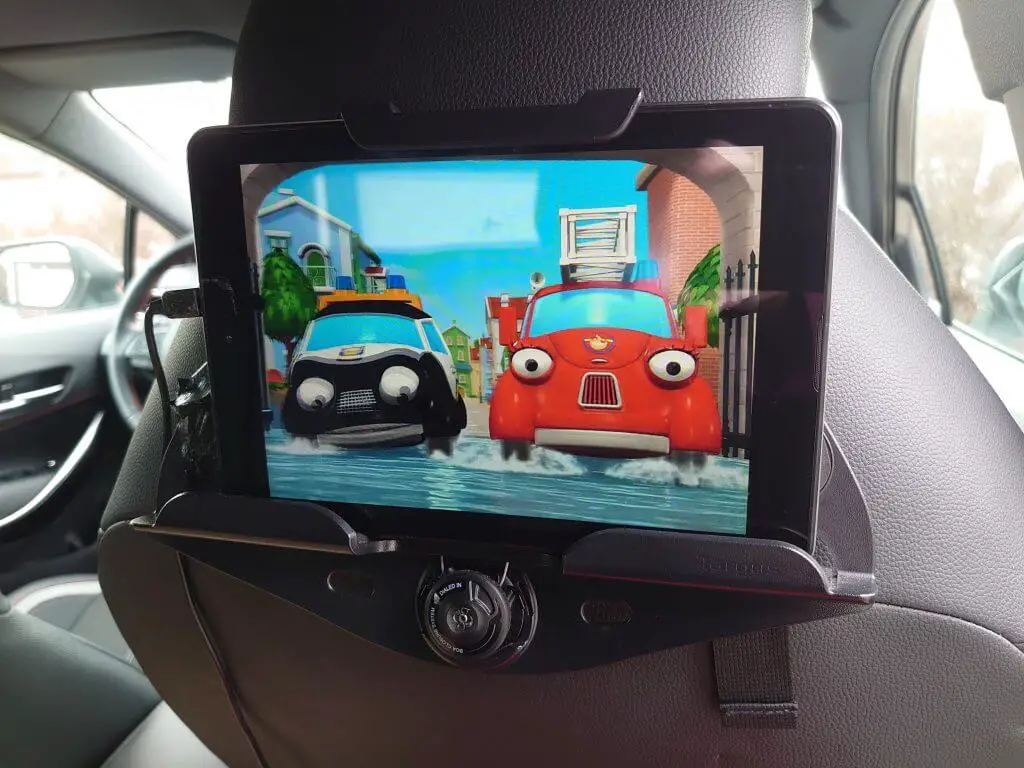 If the car is not equipped with USB chargers in the back a 12v to 5V USB charging is needed. For charing and adding ports to the backseat, a 12v to 5v multiple charging stations is highly recommended both for the entertainment system and for the passengers who travel in the back.
☑Power ☐ WiFi ☑ Tablet Car Holder
Weather station
Installing a weather station is another good idea when considering what to do with an old tablet. A weather station is great to understand how the weather will be thought the day and help you to not forget your rain clothes.
The system can always be connected to a charger make it perfect for a tablet where the battery is getting bad. When using the tablet as a station a good idea is to use an always awake application or screen scheduler to control when the system should be awake.
This could also be combined with turning it into an Alarm Clock, Calender and other applications. If you use Android, Tasker is recommended if you want to do more complicated use cases.
There is only a need for a great tablet stand like the one below from Amazon.
☑ Power ☑ WiFi ☑ Tablet Stand
Digital photo frame
Most tablet nowadays has a great screen making them perfect for a photo frame. With WiFi giving access to the internet and an application like Google Photos makes it perfect for a slideshow that can be updated from anywhere.
Get a great looking stand, plug the device into its charger and you are all set.
Google Photos, open up the app, tap on any photo in your main library or within a specific album and then tap the three-dot menu icon in the upper-right corner of the screen and select "Slideshow." The app will cycle through your photos and give you plenty of memories to reflect upon whilst relaxing or taking care of business.
☑ Power ☑ WiFi ☑ Tablet Stand
Kid-friendly learning tablet
Many child-friendly learning applications can work on older devices. It´s a great way to learn the alphabet, numbers or just an easy never ending colouring book without the risk of crayons on the wall (Magic Erasers are a god-sent). The kids learn quickly how to turn on, navigate but if you want there is also special applications and modes to activate if you would like to restrict the device.
If you still are afraid of the kid breaking the tabler a good idea is to invest in a protective casing. The best manufacturer and the company protecting my everyday phone is OtterBox.
☑ Power, ☐ WiFi (Optional)
Alarm Clock
Use a tablet stand, put the old tablet in your bedroom and convert it into an alarm clock that also can show the weather. Download an alarm clock app like Timely Alarm Clock if you don't want to use the basic app that came with the old device. You can customize the alarms to wake you up on workdays and let you sleep in on weekends, which is a great feature.
If you live in a region that is prone to have tornados, hurricanes or other extreme weather a good idea is to install a weather alert app to wake you up if there's an emergency. A weather alert app can be a lifesaver if you don't hear the outdoor weather sirens.
☑ Power, ☐ WiFi (Optional) ☑ Tablet Stand
Control Home Automation
If you use an Android tablet that can be repurposed as a central hub to control your home automation without having to find your phone or another device. Google Home and Android has been adding a lot of functionality in home automation and now supports apps to automate lights, thermostats, and other smart devices.
☑ Power, ☑ WiFi
Disclosure: Some of the links below are affiliate links. This means that, at zero cost to you, I will earn an affiliate commission if you click through the link and finalize a purchase.