Who invented the one-wheeled board?
Trevor Blackwell (born 4 November 1969, in Canada) is considered one of the forefront people enabling the making of a one-wheeled board. He is a computer programmer, engineer and entrepreneur based in Silicon Valley that in September 2004 built a functional self-balancing unicycle.
The unicycle was using a control mechanism similar to what was used by the Segway PT dating a couple of years prior. He open-sourced the code and design of his one-wheeled unicycle for everyone to use. This code has been the source of many more inventions and designs.
When it comes to a one-wheeled board there is no confirmation on who did it first. In 2006 Ben Smither used the open-source information shared by Trevor to design his version of the one-wheeled board. Ben's design used a motor with a band to rotate the wheel. On Mar 5, 2007, he shares a video on Youtube, https://www.youtube.com/watch?v=HGbbag9dklU, of him riding the board and three days later he also shared his design details on his homepage. http://www.robosys.co.uk
Bens board was built on a go-kart wheel, a 400 Watt 24V DC Motor, an OSMC and a PIC microcontroller. This is controlled by a simple PID control running at 100 Hz to handle the balance algorithms of the assembly. With the note:
Ideally I'd like a brushless DC hub mounted motor inside the wheel, but motor and control costs were a little high.

Ben Smither
So the one-wheeled skateboard as we know it today, the Onewheel, is not an original idea. Early prototypes have the same driving mechanism with a separate motor like Ben with a belt drive. The most interesting thing and what makes the controversy on this topic is the prior art from more than two developers was present when Future Motion got their patent granted in 2015.
Some other interesting comments from Bens build:
At the moment there's no speed limiting which is a pain as a bit of headroom is required to stop the rider from falling off the front. I'm either going to add a buzzer indicating that the integrator is wound up and you're near max speed or some kind of auto lean back type thing.

Ben Smither
Literally what we today call Pushback on the Onewheel to hinder the board from nosedive into the ground.
The rise of Onewheel and Future Motion
Future Motion Inc. is the company that took the invention to the market for everyone to be able to feel the stoke and float around on a one wheeled board. Founded in 2013 by Kyle Doerksen there is no doubt that the Kickstarter launch changed the personal mobility sector. The work and idea started long before. Kyle Doerksen, holds a B.S. in Neuroengineering (2004) and an M.S. in Mechanical Engineering (2005) from Stanford University.
According to Kyle Doerksen he has been working on creating his dream about the perfect electric vehicle since 2006. Trying to get the feeling you have when riding your board down the slops.
"I grew up in western Canada and I loved that floaty feeling of snowboarding on powder and I wanted to have that experience while riding around town."

Kyle Doerksen
This is how the Onewheel usually is described as a personal electric transportation vehicle that looks something like an electric skateboard but feels much more like snowboarding on fresh powder.
In 2014 eight years after the first sketches and a lot of tinkering with prototypes, Future Motion Inc. Introduced the Onewheel, in January 2014 at the Consumer Electronics Show (CES). Following a Kickstarter campaign with a set goal of $100.000. The campaign exceeded all goals by making a revenue of more than $630.000.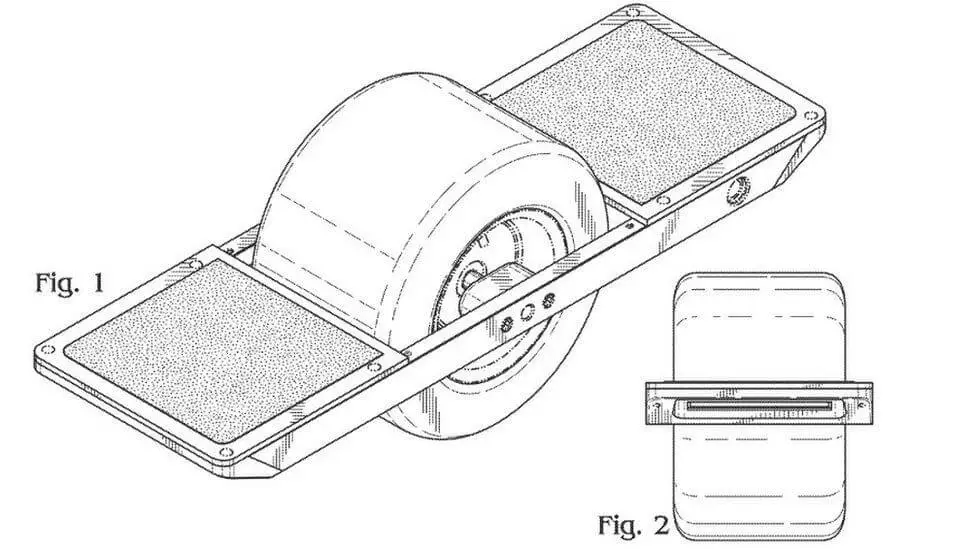 At the time, Future Motion was based in Mountain View California, before moving to Santa Cruz in 2015.
In 2016 Future Motion Inc. Raised another $3.2M in series a funding round making it a venture-backed and still privately held company.
During the years three new boards have been launched, Onewheel+ 2017, Onewheel+ XR in 2018 and the latest Onewheel Pint in 2019.
| | |
| --- | --- |
| | Future Motion Inc. |
| Type | Privately Held |
| Industry | Electronic Transport |
| Founded | 2014 |
| Founder | Kyle Doerksen |
| Headquarters | Santa Cruz, CA , United States |
| Website | onewheel.com |
How does the Onewheel work?
The Onewheel works entirely by using sensors that track the board movement coming from your body. The rider accelerates and brakes by leaning forward or backwards. Shifting the weight left or right will make the board turn just like snowboarding or any other board sport.
The feeling of riding the Onewheel can be described as surfing or snowboarding on the road. The go-kart tire makes it possible to ride on many different surfaces like hiking tracks, grass or sand like the beach. This is to be compared with a normal electric skateboard that has problems on these surfaces.
For many new riders, the Onewheel can feel uncomfortable at first before your start to trust the board. After a couple of miles, you will notice you get the hang of it and start to experience what riders are referring to as "floating" across the country.
Onewheel models
| Model | Onewheel Original | Onewheel+ | Onewheel+ XR | Onewheel Pint |
| --- | --- | --- | --- | --- |
| Typical range | 4–6 mi (6.5–9.5 km) | 5–7 mi (8–11.5 km) | 12–18 mi (20–30 km) | 6–8 mi (9.5–13 km) |
| Top speed | 13 mph (20 km/h) | 19 mph (30 km/h) | 19 mph (30 km/h) | 16 mph (25 km/h) |
| Recharge time | 20 min | 30 min | 100 min (60 min with Hypercharger) | 120 min (50 min with Ultracharger) |
| Weight | 25 lb (11 kg) | 25 lb (11 kg) | 27 lb (12 kg) | 23 lb (10 kg) |
| Motor | 500 W Transverse Flux Hub V1 | 750 W Motor HYPERCORE | 750 W Motor HYPERCORE | 750 W Motor HYPERCORE V2 |
| Battery | 130 Wh Lithium Iron Phosphate (LiFePo4) 57.4V | 130 Wh Lithium Iron Phosphate (LiFePo4) 57.4V | 324 Wh NMC battery 63 V | 148 Wh NMC battery 63 V |
| Tire | 11.5 × 6.5-6 in Vega GO-KART | 11.5 × 6.5-6 in Vega GO-KART | 11.5 × 6.5-6 in Vega GO-KART | 10.5 x 4.5-6 in Unilli |
| Max lean angle | > 30 degrees | > 30 degrees | > 30 degrees | > 30 degrees |
| Dimensions | 9 in × 11.5 in × 30 in (23 cm × 29 cm × 76 cm) | 9 in × 11.5 in × 30 in (23 cm × 29 cm × 76 cm) | 9 in × 11.5 in × 30 in (23 cm × 29 cm × 76 cm) | 8.75 in × 10.5 in × 27 in (22.2 cm × 26.7 cm × 68.6 cm) |
| Announcement date | January 2014, Kickstarter | January 4, 2017 | January 8, 2018 | March 12, 2019 |
| Availability | Discontinued | Discontinued | Available | Available |
| Price (Stock) | – | – | 1799$ | 950$ |
Onewheel models
Reference list
FAQ
Who invented the Onewheel?
Kyle Doerksen invented the Onewheel in 2006 in his free time. After 8 years and many prototypes, he launched the board with a Kickstarter campaign, crushing its $100,000 goal and eventually raising over $630,000.
When was Onewheel invented?
The Onewheel was invented in 2006, 8 years before the first patent was filed and the Kickstarter campaign started. The original Onewheel was released a year later in 2015.
Where is Onewheel made?
Onewheel is assembled in a factory in San Jose, where the different components are pieced together and tested out before being shipped out to customers.
When was the Onewheel released?
The Onewheel was released in 2015 following a Kickstarted campaign in 2014 done by Future Motion Inc.